About Indira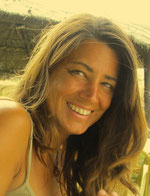 The journey
back to the
soulpath...
My dream
of a
simple life
in and with

nature...
Indira Birgit Dollinger
Cultural Studies (Dipl.), former management consultant and trainer for value-oriented culture development and change management, certified yoga and meditation teacher, health consultant, Dorn-massager, Usui Reiki practitioner as well as energy and information field worker.
(detailed C.V.)

After graduating from cultural studies I worked several years as consultant and trainer for corporate culture. But soon I felt the urge to change my life style completely.
In 2006, I started to practice yoga and meditation and changed my diet. At the end of 2007, I started studying yoga, massage and Ayurveda in India and Munich.
At the beginning of 2008, I took a chance to move to Spain and live my dream: a simple life – in and with nature – and working my vocation.
I continued my studies in meditation, Ayurveda, Reiki, energetic healing amongst others in Spain, as well as Kundalini Yoga and Ayurvedic massage in India.
Since then I live in Andalusia, whereI hold seminars and organize retreats, give Ayurvedic massages, sessions in energetic healing, yoga and meditation as well as Ayurvedic diet and cooking classes.
I'm following a beautiful path of inner exploration with enriching experiences and it's my pleasure to share these with others.